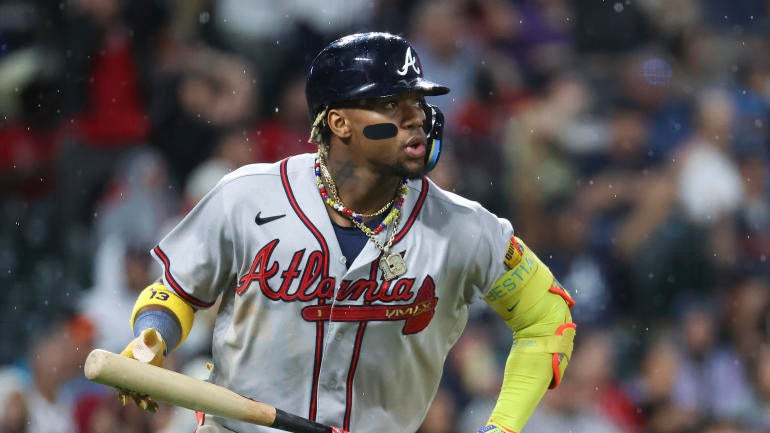 Braves superstar Ronald Acuña Jr. recently became the first 30-60 player in MLB history, and on Saturday night he broke another threshold. In the third game of his team's series against the Dodgers (ATL-LAD GameTracker) — a possible NLCS preview — Acuña hit his 32nd home run of the season. This, however, was no mere homer; it was also the hardest-hit ball of the season. Here's a look: 
That's a 454-foot homer off Emmet Sheehan, and, yes, it left the bat at a whopping 121.2 mph. Prior to Acuña's blast, Shohei Ohtani, teammate Matt Olson and Giancarlo Stanton had been tied for the hardest-hit ball of 2023 at 118.6 mph. Acuña bested that figure by a substantial margin. As well, Acuña's clout is the third-hardest-hit homer and sixth-hardest-hit ball since Statcast ball-tracking data first became available in 2015. Acuña joins Stanton and Aaron Judge of the Yankees as the only players ever to register an exit velocity of 121 mph or more. 
Acuña in this, his age-25 season presently has a slash line of .338/.419/.583 with an MLB-leading 63 stolen bases and, as noted, 32 homers. He's presently the frontrunner for National League MVP honors, although Mookie Betts of the Dodgers may yet have a say in matters. More to the point, Acuña's Braves have the best record in baseball and will very likely enter the postseason as the favorites to win the World Series for the second time in the last three years. Suffice it to say, Acuña's broad-based excellence has much to do with that.