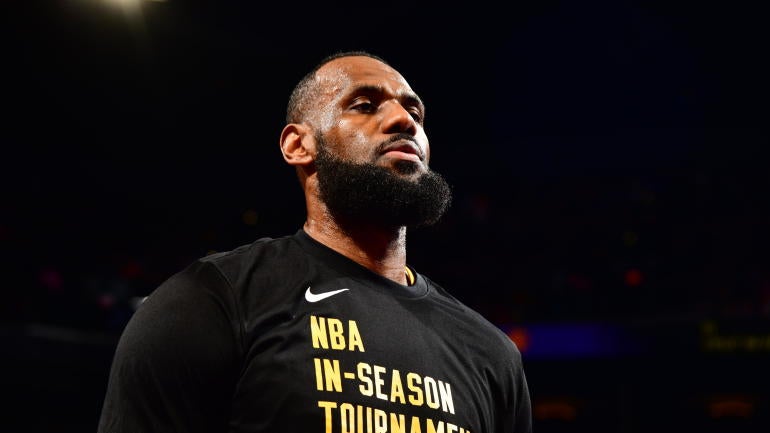 LeBron James sits atop plenty of historical lists. He's the NBA's all-time leading scorer, a mark he earned last season when he passed Kareem Abdul-Jabbar. He will very likely become the first player in NBA history to be selected to 20 All-Star Games later this season. He currently ranks fourth all-time in assists and fifth in triple-doubles. Simply pick a stat and James has likely set some sort of record involving it.
Unfortunately, not all statistics are positive. Simply by virtue of being around and having the ball as often as he has, James was bound to set some negative records as well. In 2021, James passed Karl Malone when he committed his 4,525th career turnover. Since then, he's left Malone and the field in his dust. On Friday against the Phoenix Suns, James set a new benchmark in turnover history that will be extremely difficult for anyone to reach: he committed his 5,000th turnover. The moment came in the second quarter on this steal by Grayson Allen:
Are these turnovers especially meaningful? In the grand scheme of things, no. The top 15 players on the all-time turnover leaderboard are all either current or future Hall of Famers. That makes sense. You need to have the ball quite a bit to turn it over this often, and you need to stick in the league for a long time to accumulate such volume. Legendary passers like John Stockton (No. 5), Jason Kidd (No. 7) and Magic Johnson (No. 15) are all in the top 15 in turnovers. If you have the ball as much as they did, you're inevitably going to commit more turnovers than players that don't have the same level of opportunity.
Could James' record be broken? Perhaps eventually, but as he's still playing, it's likely safe for awhile. Westbrook will probably pass Malone at some point this season, but given the trajectory of his career, he may not have the opportunity to reach 5,000 as James has. James Harden at 3,741 turnovers is in a similar position. The next active player after those three is Kevin Durant all the way down at No. 28 with 3,154 career turnovers.
This probably isn't a record James is especially proud of. Fortunately he has so many that this one is easily forgettable. Still, in many ways it could be seen as a badge of honor. No player in NBA history has ever had the ball enough to turn it over 5,000 times. If nothing else, it's a testament to both James' longevity and the enormous workload he's carried within every offense he's ever played on.