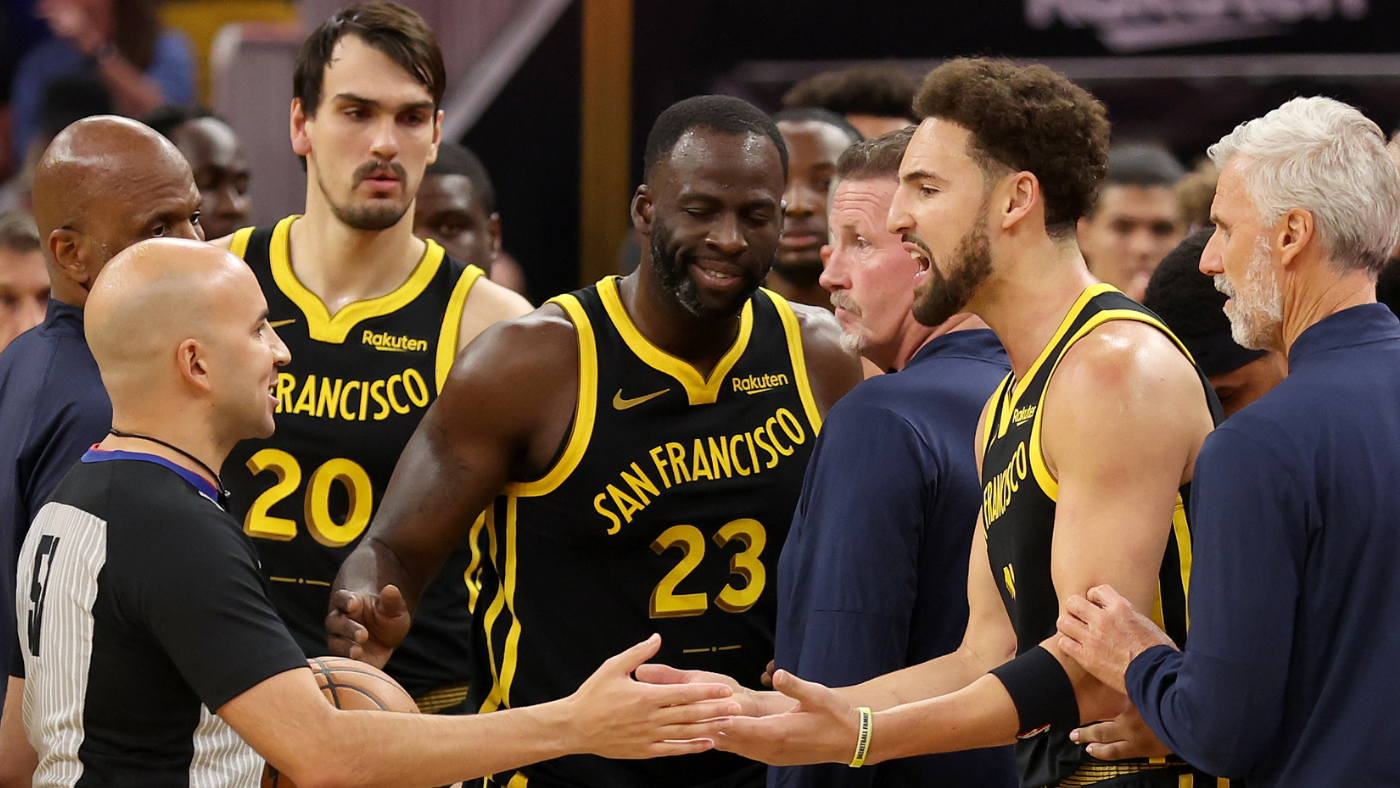 Draymond Green is a certified hothead. Everyone knows this. He gets to pass off a lot of his antics as the almost romantic cost of a fierce competitor, but that's a copout. The guy seems borderline obsessed with letting the basketball world know, at every possible opportunity, just how tough he is. 
He did it again Tuesday night, making a fight he had nothing to do with all about him as he put Rudy Gobert into a full-on WWE chokehold and dragged him away from the scene like the hero he likes to think he is. 
It all started when Klay Thompson and Minnesota's Jaden McDaniels got into a pretty decent scuffle. Each had a hold on the other and neither was going to let go as they sort of tangoed their way down the court. It escalated. McDaniels swung Thompson around forcefully enough to shred the neckline of his jersey. 
Gobert entered the fray, but didn't do much. Warriors play-by-play broadcaster Bob Fitzgerald was trying his hardest to suggest Gobert had Thompson his own headlock, but that was a hilariously homer reach as a means of justifying Green's typically ridiculous reaction. Steve Kerr tried to say the same thing after the game — a 104-101 Warriors loss, their fifth in six games. 
"Rudy had his hands on Klay's neck, and that's why Draymond came after Rudy," Kerr said. 
Please. Gobert was merely stepping in between Thompson and McDaniels, who unlike most NBA "fighters" were genuinely heated. Gobert having his hands, for the briefest of moments (and simply by the nature of their positioning), in the vicinity of Thompson's neck isn't anywhere near akin to a chokehold. The officials agreed. In the pool report, they called Gobert a "peacemaker."
Meanwhile, you want to see what a chokehold actually looks like? Exhibit A:
Below is video of how the entire incident played out. You'll notice that Green doesn't start any of the action (a notable improvement from most of his tantrums), but he comes flying in to make sure that he was the one who ended it. 
Here's an even closer look, if only to illustrate the absurdity of Fitzgerald's claim that it was actually Gobert who had Thompson in a headlock. Take a look at Gobert before Sheriff Green arrives on the scene. If you call this a headlock, I've got a few other things to sell you. 
Here's what's going on here: Draymond, first and foremost, sees an opportunity, once again, to pull apart his shirt and show his superhero chest under the guise of sending a message that nobody, be it LeBron in the 2016 Finals or Rudy Gobert in November, is going to mess with him or one of his teammates. 
(Unless, of course, that teammate is Jordan Poole, in which case nobody will need to mess with him because Green will already have knocked him out himself. But that's another story.)
The second thing Green is doing here, in my opinion, is taking advantage of an opportunity to go at Gobert, specifically, because these two have had plenty of words in the past. In fact, shortly after Green landed the punch heard 'round the NBA world on Poole, Gobert tweeted: "Insecurity is always loud." 
Six months later, it was Gobert who took a swing at his teammate, Kyle Anderson, after which Green was quick to fire off his own tweet: "Insecurity is always loud."
Following that, Green took to the air on his own podcast to basically call Gobert a "b–ch" without actually saying the word, instead patronizing him with the "little bit on the softer side" label. 
So, yeah, Green has a longstanding beef with Gobert, and on Tuesday night he saw an opening to act on that personal distaste. He didn't get away with it. While Gobert, rightfully, was allowed to stay in the game, Green, along with Thompson and McDaniels, was ejected. 
That shouldn't be the end of it. Green should absolutely be suspended. How many games? I don't know. That's not my job. But if the NBA is going to be handing out bogus technical fouls to the likes of Anthony Edwards and Giannis Antetokounmpo for having the audacity to show even a modicum of emotion after throwing down a monster dunk, it had better do the right thing in this case and keep Green off the court longer than just Tuesday night. 
I usually rest firmly in the "let these guys play with some emotion for crying out loud" camp, but this is way over the line. Green thinks he's targeted by officials because of his reputation, and to a degree, that might be true. If it is, he's earned it. 
But if you watch the Warriors enough, and with an objective enough eye, you know that Green also gets a longer leash than most other players. He is constantly toeing the line, and this time he went too far past it. He wanted to send a message. Now the league needs to do the same. Green has to be suspended, and I suspect that he will.