News that something totally outrageous has just landed is always a breath of fresh air for petrolheads. In this case, it's what Ford calls the "audacious", street-legal Mustang GTD.
With 800bhp, a supercharger, transaxle gearbox, semi-active suspension and carbon-ceramic brakes, the GTD was developed in parallel with the Mustang GT3.
In one sense, the maddest Mustang yet is a deep dive into the most basic tenets of what makes a real performance car, but the details reveal it to be a car of two parts: the traditional and the cutting edge.
Starting at the front, there's a 5.2-litre, dry-sump-lubricated, supercharged V8 producing 800bhp mounted on a subframe attached to the body. The suspension is a sophisticated take on the classic unequal-length double-wishbone design, with a single triangular wishbone at the top and two individual links at the bottom. The steering is rack and pinion and a hefty anti-roll bar runs across the front of the V8.
At this point, the tech swings further towards the cutting edge. The two front coilover suspension units incorporate Multimatic's Adaptive Spool Valve (ASV) damper technology, which can select from an array of damper settings on the fly in milliseconds under software control.
The coilovers have two coil springs each rather than the usual single spring. One is softer than the other, and for track mode, completely compressing it with a hydraulic mechanism increases the spring rate by leaving only the single, stiffer spring in play. Doing so also reduces the ride height by 40mm compared with the road setting.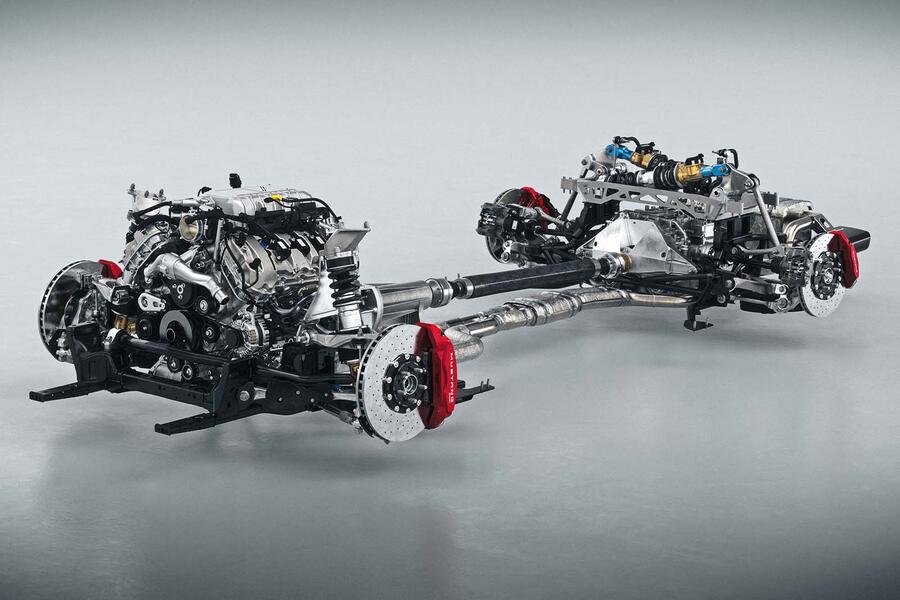 Drive is taken directly from the back of the engine to a rear transaxle gearbox by a carbonfibre propshaft. Carbonfibre reduces weight overall but also reflects the fact that because it's taking the drive directly from the engine rather than a gearbox, it spins at engine speeds of over 7500rpm. 
Stopping power is from Brembo brakes with carbon-ceramic discs all round and the rears are cooled by ducted air.