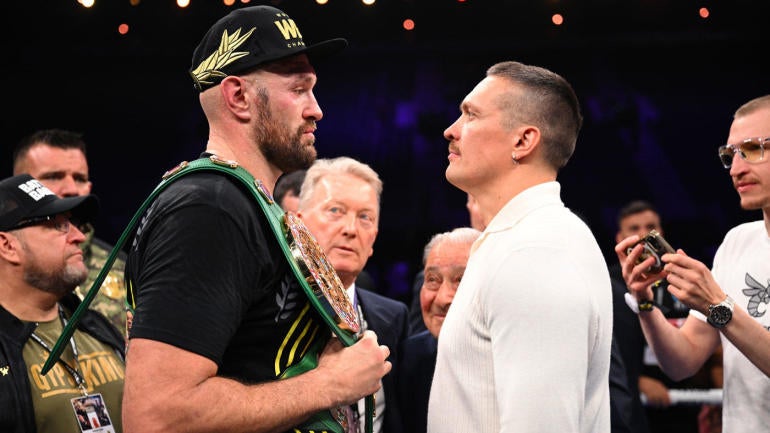 The clash to determine the first undisputed champion of the four-belt era finally has a date. Oleksandr Usyk and Tyson Fury will meet on Feb. 17 in Riyadh, Saudi Arabia with Usyk's WBA, IBF and IBO title and Fury's WBC belt at stake, both fighters' promoters announced on Thursday.
Fury and Usyk signed the bout agreement in September but without a firm date. That was in part due to Fury's October clash with former UFC heavyweight champion Francis Ngannou.
Conventional wisdom suggested Fury would easily handle Ngannou and that the bout with Usyk would go down on the planned Dec. 23 date. Instead, Fury barely survived the bout with Ngannou, suffering a cut, getting knocked down and losing the fight on one of the three official scorecards.
While Fury did get the split decision win over Ngannou, the struggles he had and the cut he sustained ruled out December and moved the fight to Feb. 17.
The irony in the situation is that, prior to the Ngannou fight, Fury said, "Usyk has to fight me in December, doesn't have a choice. He's signed a contract so if he doesn't, he's breached contract and he gets sued, so doesn't really have a choice." Then, after a sub-par showing, Fury talked about how they'd decide the date at a later time and that he wanted time to go home and rest.
Usyk's own 2023 journey wasn't without a speed bump. He defeated Daniel Dubois in August but there was controversy over a potential Usyk knockdown when Dubois landed a body shot that was ruled a low blow but Dubois and many others claimed was a legal shot. There's no guarantee that would have actually kept Usyk down had it been legal. Usyk ultimately won the fight by TKO in the ninth round.