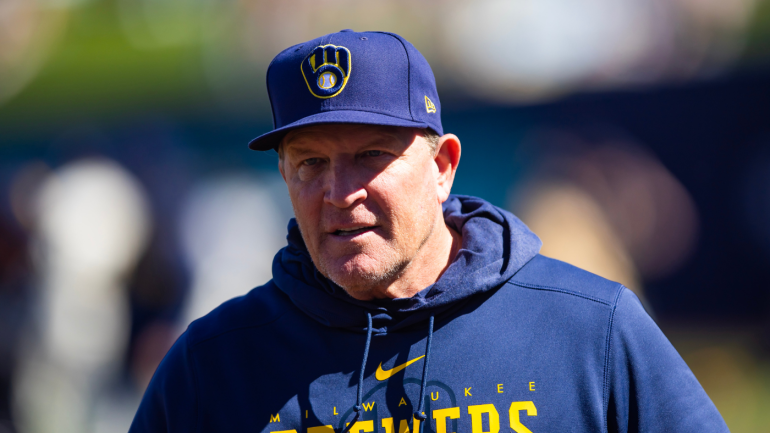 Craig Counsell's right-hand man, bench coach Pat Murphy, is set to replace him as manager, The Athletic's Ken Rosenthal reported late Monday. Counsell departed Milwaukee to become Cubs manager earlier this offseason and the duo will be forever tied together in the baseball world. 
Murphy, 64, started his coaching career at Maryville, where he was the head baseball coach and also an assistant football coach. He was later the head baseball coach at Notre Dame, where he coached, among others, future World Series champion Counsell, who graduated in 1992. Murphy coached Notre Dame through 1994 and then was Arizona State's head coach from 1995-2009. 
From there, Murphy joined the Padres as a special assistant of baseball operations. He served as a manager in the Padres' minor-league system at several stops before eventually taking over as the interim manager of the big-league club when Bud Black was fired on June 16, 2015. Murphy went 42-54 the rest of the way before the Padres hired Andy Green on a permanent basis for the 2016 season. 
It was then that Murphy joined Counsell's coaching staff in Milwaukee. Counsell had taken over the Brewers during the 2015 season and reworked the coaching staff the ensuing offseason with Murphy becoming his trusted bench coach. 
The Brewers, who went 92-70 during 2023 and won the division for the second time in three years, face a franchise-changing offseason as they decide what to do with looming free agents Corbin Burnes and Willy Adames, who both hit the market after 2024.
Having Murphy elevated from the No. 2 position in the dugout to manager will give them a little continuity as they look to pick up the pieces after Counsell's departure to the division-rival Cubs. 
May 3 will mark the first time Counsell and Murphy face off since their split, as the Cubs host the Brewers for a three-game series that weekend. The first time Counsell returns to Milwaukee as Cubs manager is May 27.