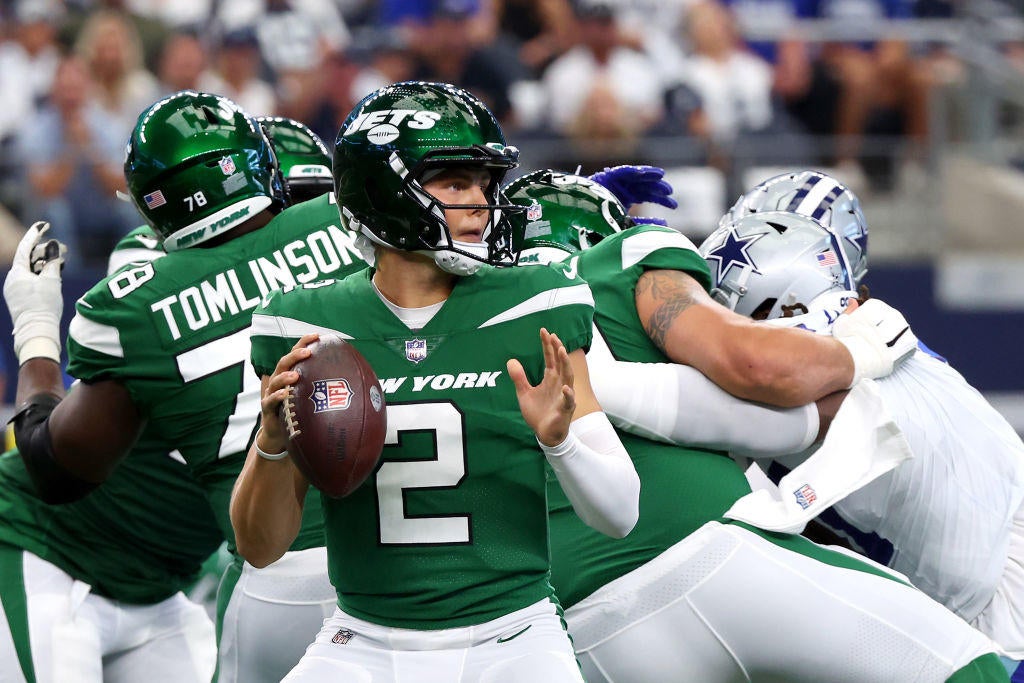 Week 2 certainly had its share of exciting games, starting with the Atlanta Falcons' thrilling comeback over the Green Bay Packers and the Seattle Seahawks' overtime victory over the Detroit Lions. The late-afternoon slate had some classic comebacks, too, as the New York Giants rallied from 21 points down to beat the Arizona Cardinals — tying the largest comeback in franchise history. The Washington Commanders had a thrilling 18-point comeback over the Denver Broncos — the largest comeback for the franchise since 2015. 
With another exciting slate of Sunday afternoon games in the books, it's time to dive into some more overreactions after Week 2. Which of these statements are overreactions and which are reality? 
The Jets need to move on from Zach Wilson in order to make the playoffs
Overreaction or reality: Reality
Wilson was horrible in his first start filling in for Aaron Rodgers, going 12 of 27 for 170 yards with one touchdown and three interceptions (38.1 rating) — which is actually over par for his standards. Wilson was 7 of 17 for 76 yards and three interceptions (15.4 rating) in the second half. 
The Jets scored 10 points in a blowout loss to the Cowboys. They can't continue moving forward with Wilson behind that offensive line, no matter how hard Robert Saleh tries. Sure Wilson knows the system, but he hasn't been good in said system. 
If New York wants to have a shot at the playoffs, it needs to find someone better than Wilson. That may be any quarterback at this stage. 
NFC East is the best division in the NFL again
Overreaction or reality: Reality
Three teams are 2-0 and the fourth is 1-1. The Philadelphia Eagles haven't looked great in their 2-0 start, yet they remained unscathed after playing two games in five days. The Dallas Cowboys have looked like the best team in football, outscoring opponents 70-10 after two games.
The New York Giants and Washington Commanders comebacks showcased the power of the NFC East. The Giants were outscored 60-0 after six quarters, yet still scored 31 points in the second half to come back and earn a win in Arizona. The Commanders were down 21-3 to the Denver Broncos, yet still rallied to score 35 points (the first time they scored 30-plus points in two years).
The Eagles and Cowboys are two of the best teams in the NFL and the Commanders are better. The jury is still out on the Giants. This division may get three teams in the playoffs again. 
Brandon Staley won't last the season in Los Angeles
Overreaction or reality: Overreaction
The start of the season for the Chargers doesn't look great, especially at 0-2 with Justin Herbert at quarterback. Los Angeles has scored 50 points and committed no turnovers through two games — yet are the only team in NFL history to start 0-2 while accomplishing that feat. 
The Chargers have two losses by a combined five points, allowing 30.5 points per game in those losses. Keep in mind Staley is a defensive coach. Los Angeles still has an opportunity to turn things around (Minnesota and Las Vegas are the next two games), but he Chargers do have a brutal schedule.
Too soon to believe Staley will get fired through two games, but another loss next week will make a warm seat hot. 
Overreaction or reality: Reality
Barkley is the cog in the offense that makes the Giants go, specifically Daniel Jones. With Barkley on the field in the second-half comeback, Jones completed 17 of 21 passes for 259 yards with two pass touchdowns while rushing for 58 yards and a touchdown. Jones became just the second player in NFL history with 250 passing yards, 50 rushing yards, two passing touchdowns, and a rushing touchdown in a half. 
Barkley's injury is severe enough he won't discuss it, even though one report says it's a sprained ankle. We'll see how long Barkley is out, but the Giants need him if they want to go to the playoffs. Jones can't be the quarterback the Giants want him to be without Barkley on the field. 
Bijan Robinson is already a top-five RB in the NFL
Overreaction or reality: Reality
The Falcons took Robinson at No. 8 overall in the draft, putting him behind a dominant run-blocking offensive line. Arthur Smith certainly used Robinson to his full advantage in Sunday's win over the Green Bay Packers, as Robinson had 172 yards of offense (and his first 100-yard rushing game), leading the Falcons to a thrilling fourth-quarter comeback over the Green Bay Packers. 
Robinson is already second in the NFL in rushing yards (180) and fourth in the NFL in yards from scrimmage (255) after the Sunday afternoon games. He's already averaging 6.2 yards per carry and showcased his game-changing ability on offense with his ability to make big plays on crucial downs. 
Through two weeks, Robinson is already a top-five running back. 
Overreaction or reality: Reality
Brown's impact has been felt in the first two games of the season on the offensive line. Jawaan Taylor has allowed just one pressure in 88 pass-blocking snaps through two games, but had five penalties in Sunday's win over the Jaguars (he got flagged twice for false starts, and twice for holding, and one for illegal formation). The Chiefs actually sat him for a bit after the fourth penalty. 
Donovan Smith has allowed seven pressures through two games and three quarterback hits, with a pressure rate allowed of 7.8%. Those numbers aren't good, as the only reason Smith hasn't allowed a sack is because Patrick Mahomes gets rid of the football quickly. 
The Chiefs have a tackle problem. Brown wasn't perfect, but he was rock solid on that offensive line for several years. 
Overreaction or reality: Overreaction
Two games into his NFL career and Richardson had to leave both of them with different injuries. Richardson wasn't on the injury report heading into Week 2, but left Sunday's win over the Houston Texans with a concussion in the second quarter. This comes a week after he left late in the fourth quarter due to knee soreness. 
Richardson's early track record of finishing a game isn't good, so maybe he should sit a week even if he's cleared to play next week? Long term, that would be beneficial for the Colts since Richardson is their franchise quarterback. That would give Richardson an extra week to heal up. 
Thanks to Gardner Minshew (19 of 23, 171 yards, TD, 0 INT), the Colts could afford to rest and protect Richardson if they want to. They likely won't do it, but it may be beneficial for Richardson to get through his rookie season. 
If Richardson is good to go, he will play. 
Overreaction or reality: Overreaction
Mayfield has been impressive through two games, completing 69.1% of his passes 490 yards with three touchdowns and zero interceptions through two games (104.4 rating). Mayfield has been protected (only sacked once) and hasn't fumbled, so no turnovers through two games. 
The Buccaneers are 2-0 as a result of Mayfield's good decision-making when not being pressured. He's also getting the ball to Mike Evans, who has 12 catches for 237 yards and two touchdowns (19.8 yards per catch) through two games. The Buccaneers are doing enough on offense to match their very good defense. 
Are they the best in the NFC South? The Saints haven't played their second game yet and the Falcons have grinded out two good wins, so it's too early to make that claim. If Mayfield keeps playing mistake-free football, Tampa Bay will be a threat to win the division and make the playoffs. 
Through two games, the Buccaneers certainly look like a playoff team — no matter who they've faced so far.