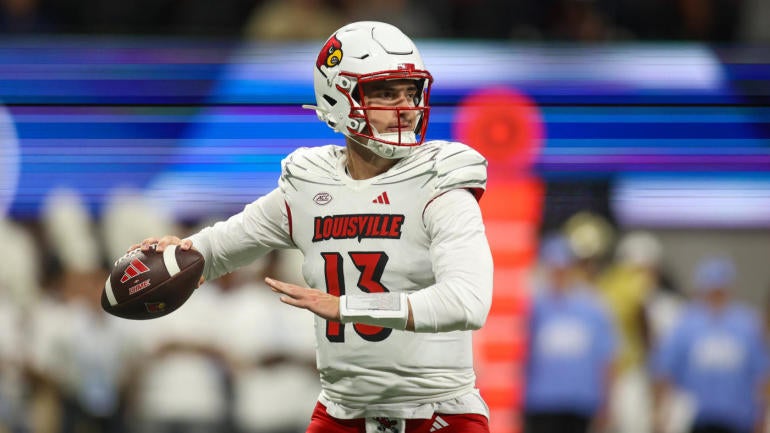 Louisville scored 26 unanswered points in the second half, turning a 15-point halftime deficit into a 39-34 win over Georgia Tech in Jeff Brohm's head coaching debut at his alma mater. Louisville transfer quarterback Jack Plummer completed 18 of 31 passes for 247 yards and three touchdowns in the victory. Before his one-year stint at Cal, Plummer played at Purdue under Brohm for three seasons.
Georgia Tech had all the momentum going into the locker room for halftime thanks to a strong early performance from Texas A&M transfer Haynes King. King, who finished the game with 313 yards and three touchdowns, helped lead the Yellow Jackets to 28 points in the second quarter to give his team a 28-13 halftime lead. 
The second half belonged to the Cardinals. Plummer led his team to a field goal early in the third quarter, then tossed a 5-yard touchdown pass to Jamari Thrash to cut the lead to 28-23. Plummer hooked up with Thrash again for a 20-yard score to give the Cardinals a 29-28 advantage with 8:06 to go in the game.
With Georgia Tech threatening Louisville to retake the lead, Louisville's Dezmond Tell forced a strip sack on King that was recovered by the Cardinals. 
Shortly after that, Lousiville running back Jawhar Jordan burst through the middle with a 74-yard touchdown to make it 36-28 with 3:41 remaining. Jordan finished with a game-high 96 yards on only seven attempts.
The Cardinals put the game away with 2:35 left when Brock Travelstead nailed a his fourth field goal to extend the lead to double-digits. The Yellow Jackets would score a late touchdown, but it came after the game had been decided. 
Brohm started 23 games at quarterback for the Cardinals as a player. He later began his college coaching career at his alma mater, serving as an assistant from 2003-2008. After offensive coordinator stints at at Florida Atlantic, Illinois, UAB, and Western Kentucky, he landed the head job at Purdue in 2017. Louisville brought Brohm home this past offseason after Scott Satterfield left for the head job at Cincinnati.
The Cardinals move to 1-0 both overall and in ACC play with non-conference showdown against Indiana next on the slate. The Yellow Jackets will try to bounce back next week against South Carolina State.