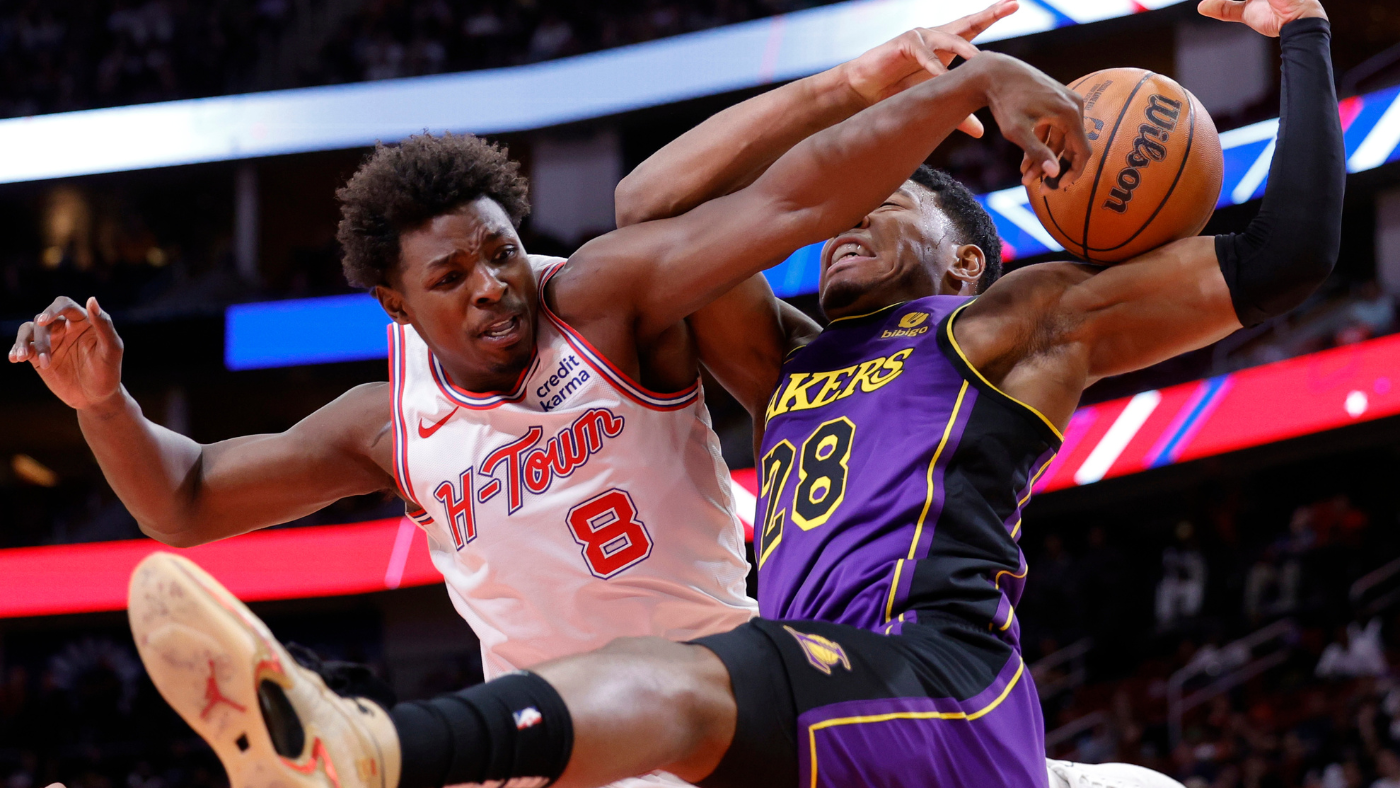 Jalen Green made a relatively inconspicuous free-throw five minutes and nine seconds into Wednesday's 129-84 Houston Rockets domination over the Los Angeles Lakers. The freebie gave Houston a 17-7 lead less than halfway through the first quarter. Such deficits are becoming distressingly common for the Lakers. Through eight games, the Lakers have trailed by double digits a whopping seven times. The only game in which they didn't fall behind by at least 10 came against the Orlando Magic on Oct. 30. In that comeback victory, the Lakers trailed by as many as eight.
This obviously means that the Lakers haven't led wire-to-wire in any contest yet this season. In fact, they haven't even come close. In their three wins over the Magic, Kings and Suns, they overcame combined deficits of 34 points. The losses are, predictably, far uglier, and they've almost all begun with the Lakers digging an enormous early hole for themselves that they could not overcome. 
What's more, through eight games, the Lakers have been the worst first quarter team in NBA history. Their minus-74 point-differential in first quarters is the worst figure any team has ever posted through eight games, according to SportsCenter research. Their net rating in the 96 first-quarter minutes they've played is minus-36.2. That is nearly five points worse than any other team in any quarter this season. The 2011-12 Charlotte Bobcats, who won seven games and lost 59, had a minus-19.2 first-quarter net rating. The Lakers currently rank dead last in both first-quarter offense (94.2 points per 100 possessions) and defense (130.4 points allowed per 100 possessions). Only seven teams managed to get cumulatively outscored by 74 points in first quarters across the entire 2022-23 season. In short, this is a crisis.
So what's going on here? Well, it's a combination of factors both within and out of their control. Injuries have piled up in the early going, and not necessarily to the players the Lakers would have expected. LeBron James has played in all eight games thus far and Anthony Davis has only sat out once. But Jarred Vanderbilt hasn't played yet. Taurean Prince, Gabe Vincent and Rui Hachimura, all expected to play significant minutes, have missed multiple games at the same time. When the Lakers overcame a 19-point deficit to defeat the Clippers last week, they used only eight players. Wednesday's loss to the Rockets saw the first extended usage for two-way players Colin Castleton and D'Moi Hodge.
There's been a bit of bad luck in some other areas as well, specifically in the form of opponent shooting numbers. Laker opponents have made 47.6% of their wide-open 3s in first quarters and 50% of their open attempts, according to NBA.com tracking data. This is largely out of their control, but it's hardly an impossible obstacle to hurdle. The 76ers and Pacers have had far worse opponent's shooting luck in first quarters. They rank 14th and 15th in first-quarter net rating, respectively. Great teams make their own luck.
The Lakers largely did so at the free-throw line last season, both averaging the most attempts (26.6 per game) and allowing the fewest (20.8) in the league last season. The first-quarter Lakers of this season are roughly a middle-of-the-pack fouling team defensively. They're still getting to the line plenty, but they're shooting only 67.5% when they get there. They need those free-throws to prop up an offense that frankly cannot shoot. Through eight first quarters, the Lakers are shooting 29.7% from deep.
Last year's Lakers survived these offensive woes by playing elite defense. Davis is the only player on the roster who rates as even a consistent defensive positive right now, and he's spending most of his playing time putting out the fires his teammates start, but even he can't be everywhere. De'Aaron Fox, Paolo Banchero and Kawhi Leonard have all had double-digit scoring first quarters against the Lakers. All three likely would have been defended by Vanderbilt had he been healthy. D'Angelo Russell and Austin Reaves have their virtues defensively, but foot speed isn't one of them. The Lakers are frequently using Prince on top opposing scorers. It's going badly.
We're only eight games into the season. These numbers will stabilize to some extent. The Lakers will get healthier. They'll figure out their rotation. But the Lakers outscored their opponents by 6.8 points per 100 possessions in first quarters after last season's trade deadline and they largely carried that success with them into the postseason. This is not a team that is meant to overcome enormous leads. It simply lacks the firepower to do so consistently. The Lakers want to play from ahead and force offenses into desperate situations against their big, physical defense. They're not coming close to doing that right now, and if that doesn't change, it's going to be a long season in Los Angeles.