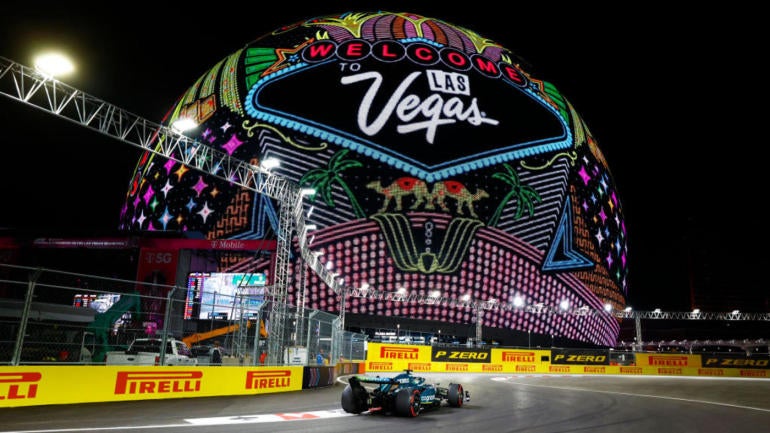 A group of Formula One fans have filed a class-action lawsuit against the Las Vegas Grand Prix and parent company Liberty Media after paying spectators were forced to leave the grandstands of the Las Vegas street circuit following a practice fiasco Thursday night. According to the Associated Press, the aggrieved parties — represented by Las Vegas-based Dimopoulos Law Firm and co-counsel JK Legal & Consulting — are seeking at least $30,000 in damages in a Nevada state court.
Fans who bought tickets for Thursday's opening practice of the Grand Prix weekend saw less than 10 minutes of on-track activity before Carlos Sainz Jr. ran over a drain cover, damaging the underside of his Ferrari and forcing the remainder of the session to be cancelled while race officials inspected the circuit. 
The ensuing 2.5-hour delay forced the second practice to be pushed to 2:30 a.m. PT, but fans had been forced to leave the grandstands by then, with organizers citing "given the lateness of the hour and logistical concerns regarding the safe movement of fans and employees out of the circuit." Despite the exorbitant ticket prices for the Grand Prix, fans affected by the delay were merely given a $200 merchandise voucher, which was only offered to single-day ticket holders and not to anyone who purchased three-day passes.
"Clearly that [$200 merchandise voucher] is not a refund that is sufficient. A lot of fans probably don't even want that, they want their money back," Steve Dimopoulos of Dimopoulos Law Firm told Reuters. "There are also peripheral issues of what about the people that came in from out of town and paid for substantial air fare and hotels."
The Sainz incident and the removal of fans from the premises was yet another exercise in poor optics for the Las Vegas Grand Prix. The event has been criticized for everything from the oversight of F1 officials in scheduling a late race for mid-November in Las Vegas without realizing the weather would be cold to a negative impact on local businesses excluded from what is set to turn into an all-consuming downtown spectacle for the ultra-wealthy.
A statement by F1 President Stefano Domenicali and Las Vegas Grand Prix CEO Renee Wilm reemphasized that the circuit was closed to spectators for the second practice due to safety and legal reasons, but did not offer a direct apology.
"We have all been to events, like concerts, games and even other Formula One races, that have been canceled because of factors like weather or technical issues," read the statement. "It happens, and we hope people will understand."