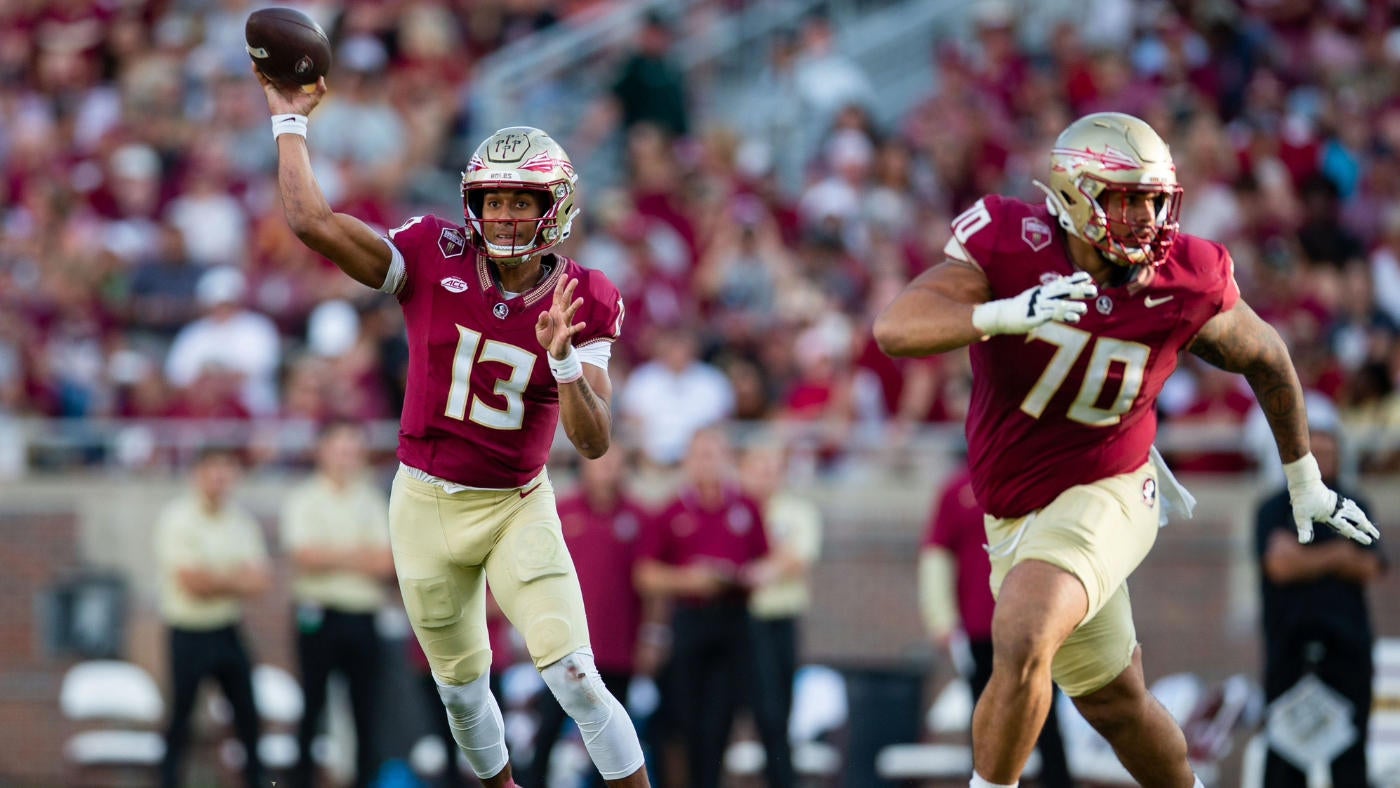 No. 4 Florida State catches somewhat of a break in Week 12 as the undefeated Seminoles play host to North Alabama for a FBS-vs.-FCS nonconference clash Saturday at Doak Campbell Stadium in Tallahassee, Florida. It's a chance for the Seminoles, who already clinched a spot in next month's ACC Championship Game after going undefeated in conference play, to get healthy and sort out any kinks as they look to complete a perfect season and capture both their first ACC title and College Football Playoff berth since 2014.
There's still a remaining road game at rival Florida in Week 13 before FSU competes for the ACC crown against a to-be-determined opponent on Dec. 2 in Charlotte, North Carolina. 
This will be the first time the Seminoles have faced North Alabama (3-7, 1-5, United Athletic Conference), which enters the contest having lost two straight games and five of its last six. The Lions have not faced an FBS opponent since losing 59-0 at Memphis last November, and this will be their first time meeting a Power Five opponent since joining the NCAA Division I ranks in 2018. 
Get caught up to speed on viewing information and storylines below before the Seminoles and Lions go to battle under the lights in Week 12. 
How to watch Florida State vs. North Alabama live
Date: Saturday, Nov. 18 | Time: 6:30 p.m. ET
Location: Doak Campbell Stadium — Tallahassee, Florida
TV: The CW Network | Live stream: Fubo (Try for free)
Fubo's holiday offer just kicked off! For a limited time, new subscribers can save $40 on Fubo's Pro, Elite and Premier plans ($20 off the first and second months).
Florida State vs. North Alabama: Need to know
Seminoles get needed break: FSU remains unblemished, but it hasn't exactly been asserting its will on opponents in the past month. Three of its last four games have been tightly-contested into the second half, including a 24-7 win against struggling Pittsburgh and a 27-20 victory just last week against rival Miami. While the Seminoles have been able to fend off Washington for the No. 4 spot in the College Football Playoff Rankings so far, theycould be playing with fire if they continue the trend of close games. That should change this week at least, and while FSU may not be able to improve its ranking, it can do some fine-tuning before some pivotal contests roll around. 
FSU star WRs getting healthier: The injury bug certainly had a role to play in some close calls for the Seminoles in recent weeks. Leading receivers Keon Coleman and Johnny Wilson both dealt with ailments that temporarily robbed quarterback Jordan Travis of his two most reliable targets. Wilson missed FSU's win against Wake Forest, and both missed the game against Pitt before returning to action against Miami last week. Wilson caught for 82 yards in his return against the Hurricanes while Coleman was limited to just 24 yards, though one his four catches was a touchdown. FSU may not need them at full strength against North Alabama, but that changes the following week for a potentially tricky road game at Florida. 
North Alabama history lesson: As noted, the Lions are relatively new to life in the NCAA Division I ranks, having joined the FCS just five years ago. They previously competed in the NCAA Division II since 1972 and were a powerhouse in the mid-1990s, winning three straight national championships from 1993-95. No other program has pulled off that feat at the NCAA Division II level. Success hasn't been as easy to come by in this chapter of the program's history. North Alabama went 7-3 as an FCS independent in 2018 but hasn't finished above .500 since. 
Florida State vs. North Alabama prediction
The premise of November "cupcake" games like this one is simple: The Power Five team gets a much-needed chance to regroup at home while helping pay the bills for the FCS team that was willing to come in and take a beating. And that's how this matchup should unfold. Anything less would certainly create some pause around FSU, which is the last thing a team narrowly inside the top-four needs entering crunch time. Coach Mike Norvell's Seminoles are well aware of that, and they 'Noles will cruise Saturday against a team that has never faced an opponent of FSU's caliber. Prediction: Florida State 45, North Alabama 3