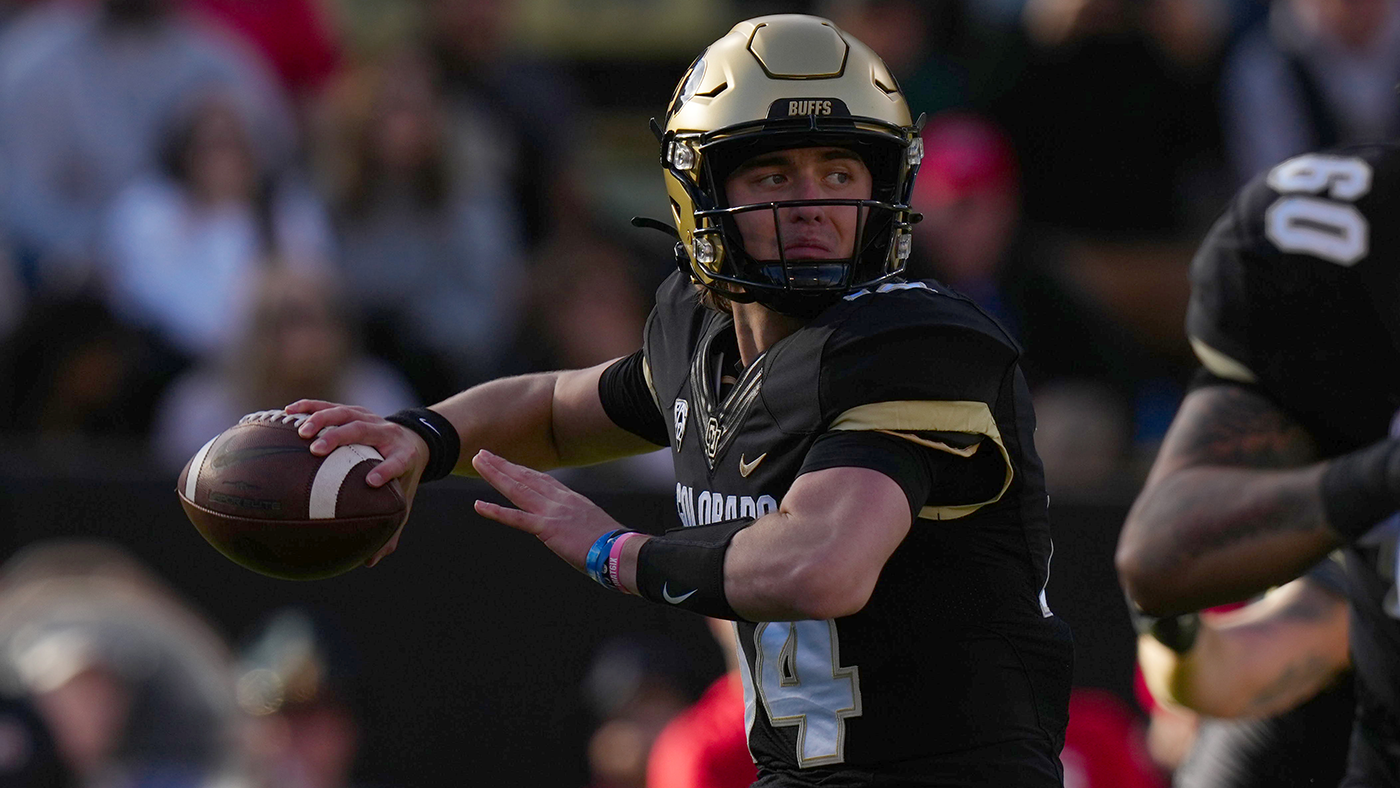 You don't have to look hard to find Maddox Kopp in that now-famous YouTube video of Deion Sanders addressing the Colorado football team for the first time. Kopp — a quarterback who started the Buffaloes' last game in 2022 — was in the front row last December, among those suddenly told their services were no longer needed by Coach Prime.
"When I heard everything, I wasn't shocked or anything like that," Kopp told CBS Sports. "The whole world was a little bit shocked … but that's how coaches talk and that's how they think. And [Sanders] just says it."
Kopp is a minor figure in the Coach Prime transition at Colorado. He and dozens of his teammates were basically told to transfer elsewhere so Sanders had room for his "Louis."
But after transferring to Miami (Ohio), Kopp has become the latest waiver warrior in a controversial transition of another kind.
Kopp was recently denied a waiver request by the NCAA to transfer a second time as he sought immediate eligibility with the RedHawks. He began his career at Houston in 2021 as a three-star prospect. Kopp then transferred to CU in January 2022.
As the fourth quarterback to start for CU in its 1-11 cratering last year, Kopp threw for 123 yards in a 63-21 loss to Utah. Then his world turned upside down when the NCAA ruled he couldn't play right away at Miami (Ohio).
The quarterback, his family and their attorney sought a waiver citing learning disabilities and a "totality of circumstances including runoff and public and private statements made by the head coach," that attorney, Jason Montgomery, told CBS Sports.
The process became more complicated when the NCAA cracked down on granting waivers for second transfers in January. Since August 2021, NCAA rules have allowed athletes a one-time transfer without sitting out. That "year in residence" spent concentrating on academics for transfers had been in place since 1964.
At issue are players who opt to transfer a second time as undergraduates. Such waivers allowing players to see the field immediately are now only granted amid "exigent circumstances," according to the NCAA. In other words, issues outside of an athlete's control that require a player's "immediate departure." The new waiver interpretation did away with "lack of playing time" and even "academic preferences" as reasons to grant second waivers.
You're reading that right. As part of this new transfer world, the NCAA essentially rubber stamped a coach's ability to run off players who weren't good enough without necessarily giving those players a fair opportunity to play elsewhere immediately. Previous transfer rules made it easier to transfer if players were run off.
Kopp is arguing that he went into the transfer portal in December only for the rules to change. On Jan. 11, after he arrived at Miami (Ohio), second transfers became more restrictive.
"There is a totality of circumstances, which is what [the NCAA has] used in the past to allow waivers," said Montgomery, a former NCAA investigator. "One may not add up, but if you put them all together, it's a problem for a kid. This is that type of case."
"Running off" players is a practice as old as hip pads. It is the habit of coaches telling — or intimating to — players they aren't good enough to play. The Sanders' video — produced by his staff — revealed in stark reality an age-old college football tradition.
"Basically, we're all sitting there waiting and all the cameras come in," Kopp recalled. "I went to the meeting knowing that I had a decision to make. I know Shedeur [Sanders]. I know Deion. I kind of already had an inclination in my head, but I went and sat there with an open mind like my dad told me. … I don't have any animosity. Nothing against Shedeur, nothing against Deion and what they're doing. I respect Shedeur for going in and balling out."
Kopp and Shedeur trained together in the offseason, working under the same throwing coach in Houston.
Kopp just wants to play. His learning disability involves reading comprehension. Kopp can tell you what a book is about, but it's another issue when he's asked to write down those thoughts. The NCAA is specific about what it calls EID — Education-Impacting Disabilities. 
Because of that disability, Kopp was allowed at Miami (Ohio) to forgo the foreign language requirement as he pursues a communications degree, according to his mother, Deborah.
"We did learn that his learning disability was not taken care of [at CU] and [the NCAA] still didn't give the waiver," she said. "So now I'm incensed. Let's not forget the NCAA created a Wild, Wild West [with NIL]. They've got kids driving $250,000 cars. I don't know what their grades are, but my kid who works really hard … he has now found a place that wants him with no [NIL] money. And now they're telling him no."
Deborah Kopp said she contacted CU seeking a letter endorsing her son's eligibility but never heard back.
"He's all on his own," said Montgomery, a higher education attorney with the powerful Husch Blackwell law firm. "They don't recognize [his case] as a valid rationale for transfer or for an issue related to mental health at this time.
Maddox Kopp has dealt with his learning disability since grade school. His grades are good. Three brothers have played Division I athletics. But while Shedeur chases glory at reborn CU, Kopp describes himself being "in limbo."
Montgomery asked for a reconsideration of Kopp's situation while seeking an appeal. Both were denied. Kopp's chances of playing this season are slim.
"Honestly, I would say [I'm in] no man's land," Kopp said. "I'm still trying to figure it out, life without the opportunity — that little chance you know you may get on the field."
Kopp's situation is similar to that of North Carolina wide receiver Tez Walker. The denial of the Tar Heels player's transfer appeal has become a national story. Walker transferred from Kent State on Jan. 9, two days before the NCAA changed its second transfer rule.
"Maddox Kopp shouldn't be held to this new standard when the rule changed in the middle of his transfer," Montgomery said. "That's what North Carolina said, too."
The NCAA has basically taken the stance that, "You should have known the rule changes were coming." In August 2022, the Division I Board of Directors voted to restrict second waivers. It was up to the NCAA Council to formalize the rules. The specifics came down Jan. 11, 2023.
Ironically, the Division I Committee for Legislative Relief, which oversees waivers ,was created in 1993 because of members' "desire for more rules' flexibility," according to the NCAA.
The association is currently taking it from all sides on this issue. Coach Prime himself has had an issue with the transfer waiver.
The transfer portal is five years old. That's not the issue. What Sanders has done with it, bringing in approximately 60 transfers in one offseason, has led to Colorado program becoming one of the most remarkable turnaround efforts in the game's history.
Still, second transfers have become a flashpoint nationally as the NCAA tries to apply the new rules.
COVID-19 introduced a new level of freedom for players. The so-called "COVID Year" gave everyone enrolled in college at the time an extra year of eligibility when the pandemic hit in 2020. Maddox himself signed with the hometown Cougars prior to meeting any coaches in person; he only spoke with them on Zoom as official visits weren't allowed during the pandemic.
Now, the question must be asked: Did the NCAA act too quickly in clamping down? It's one thing for membership to approve a rule change. It's another for membership to get used to it, gradually.
Last week, North Carolina coach Mack Brown released a scathing criticism the waiver process. The North Carolina Gov. Roy Cooper even wrote NCAA president Charlie Baker asking for Walker to be deemed eligible.
Transfer waivers have become such a hot button issue an NCAA statement Tuesday referred to threats made against staff as a result of "public remarks" made by North Carolina "leadership." Then, Brown was cited individually.
All of it may be a reaction to what is perceived as the NCAA being in a defensive position. Its power and prominence has diminished as the collegiate model evolves to one centered around player empowerment and compensation.
NCAA official Derrick Crawford seemingly broke his organization's own rules when he spoke openly about Michigan coach Jim Harbaugh's case with the NCAA. (Schools and their representatives are threatened with sanctions if they speak publicly about an ongoing investigation.)
Reggie Bush recently sued the NCAA in an attempt to get his Heisman Trophy restored.
Practitioners and NCAA staff are able to monitor waiver requests in what is called the RSRO Database. It contains waiver request cases, but not all of them, according to sources familiar with the process. NCAA staff isn't required to update the database.
On Sept. 1, the NCAA released a memo stating that only 18% of 81 waiver requests (across all sports) had been approved for the 2023-24 academic year.
Another picture of what waiver relief looked like before the crackdown: From May 1 to July 31 last year, 308 cases were evaluated by the Committee for Legislative Relief. Out of those, 237 (77%) were approved.
Earlier this week, the NCAA stated that there are 22,000 athletes in the transfer portal this academic year. Of those, 3% (660) would be multiple-time transfers who would require a waiver to play immediately.
Kopp is one of them, still in limbo.
"I attend every meeting, every practice, every lift without the reward," he said. "It's a really weird time in my life."