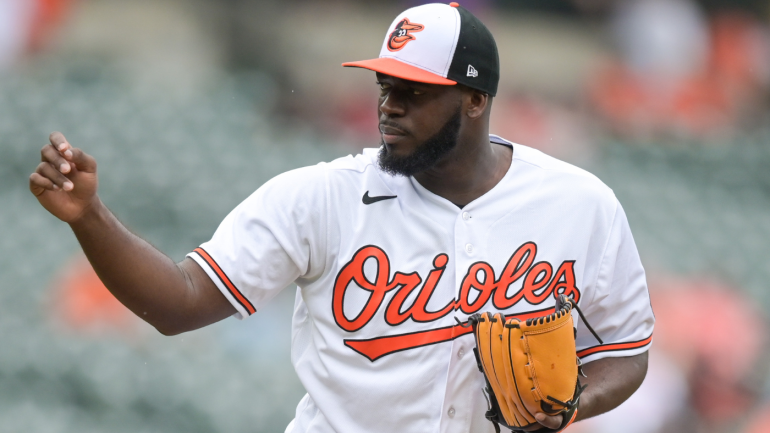 The Baltimore Orioles have yet not ruled out closer Félix Bautista for the remainder of the season, according to Dan Connolly of Sportsnaut. Instead, general manager Mike Elias told reporters on Monday that the Orioles are still evaluating Bautista, who has continued to play catch despite a partial tear in his ulnar collateral ligament — or the so-called "Tommy John" ligament.
Connolly noted that Bautista has not necessarily avoided surgery, and that he may still require going under the knife at some point — perhaps as soon as this offseason. Tommy John surgery often necessitates at least a 12-month recovery process, with teams in recent years erring on the conservative side. As such, Bautista would likely miss the entirety of the 2024 season no matter whether he underwent the procedure now or, say, in a month's time. 
Bautista, 28, hasn't pitched since Aug. 25, when he left a save opportunity against the Colorado Rockies with two outs already recorded. In 56 appearances this season, he's amassed a 1.48 ERA (285 ERA+) and a 4.23 strikeout-to-walk ratio. He also notched 33 saves (in 39 chances) and made his first career All-Star Game — a notable accomplishment for someone who the Orioles first obtained as a minor-league free agent back in August 2016.
Bautista possesses some of the nastiest stuff in the majors, including a fastball that averaged 99.5 mph and a splitter that generated a 60.2% whiff rate. 
The Orioles entered Monday with a 90-52 record on the season, giving them a three-game lead over the Tampa Bay Rays in the American League East. If the Orioles hold on, this will mark their first division title since 2014, when they made a run to the AL Championship Series before losing to the Kansas City Royals in a four-game sweep.