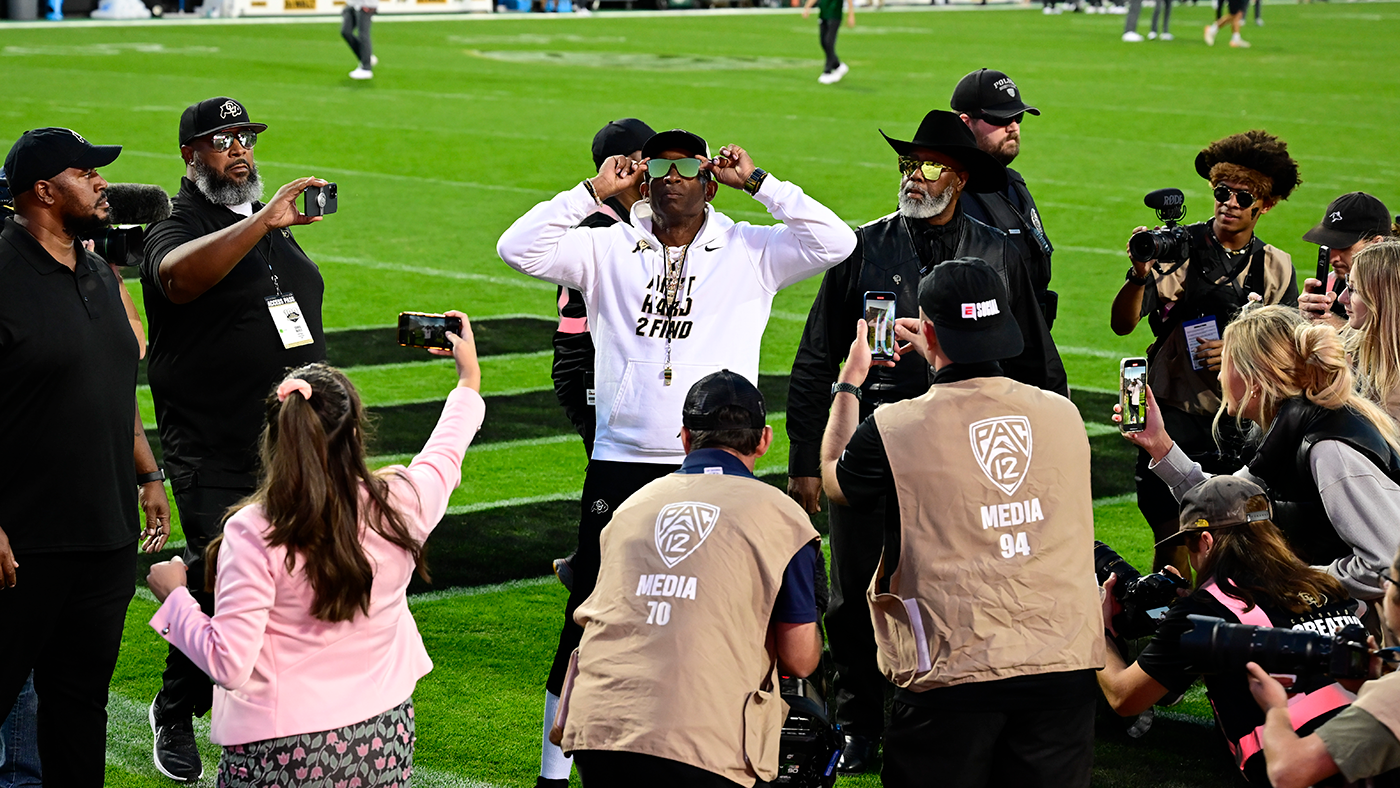 Deion Sanders has lived in the public eye for nearly four decades since he burst onto the scene as a three-sport star at Florida State in the 1980s. Now, he is shining on the college stage again but in a different capacity as the coach of the No. 19 Colorado Buffaloes.
Colorado has taken not just college football but the entire sports wold by storm in Sanders' first season amid a 3-0 start. With a cultural icon like Sanders — now known as Coach Prime — at the helm, the previously irrelevant Buffs have become a draw for celebrities. Lil' Wayne led the team out of the tunnel before Saturday night's thrilling double-overtime win against Colorado State, while Dwayne "The Rock" Johnson joined the team in the pre-game locker room. Star athletes such as Kawhi Leonard and Rob Gronkowski were also in attendance Saturday night.
Such a scene would have been unfathomable on the Colorado campus this time last year as the Buffs struggled to a 1-11 season, their fifth losing campaign in the past six years. But Sanders changed everything when he arrived after posting a 27-6 record in three seasons at Jackson State.
With an unprecedented roster overhaul, savvy assistant coaching hires and his own larger than life personality, Sanders has rapidly built a formidable program.
Conventionally, "60 Minutes" — the oldest and most-watched newsmagazine on television — does not profile the same subject twice in two seasons of its program. However, convention doesn't intersect with Coach Prime.
Amid the mayhem of the season, Sanders sat down with Jon Wertheim for a "60 Minutes" feature Sunday night that dove into Sanders' mindset taking the Colorado job, some of his controversial tactics upon being hired and why Nick Saban is the coach (other than himself) he respects the most.
Below are excerpts from the "60 Minutes" conversation, which can be viewed in its entirety on Paramount+ (Try It Free).
Are you the change agent? Are you the ultimate change agent [in college football]?
Deion Sanders: "I make a difference. I truly make a difference. I make folks nervous, man. I get folks movin' in their seat. I get folks twiddlin' their thumbs. I get them thinkin' and second-guessin' theirself. You know — have you ever been so clean that you walked in, and somebody looked down at you, then they looked at themselves? They had to check themselves because you were so clean? I have that effect."
Do you feel like you were underestimated? You come here, and it's, "I don't know if Coach Prime can win." You must have heard what some of these other coaches were sayin', both secretly and out loud …
Sanders: "Yeah, that's fear. That's like, "Hey, man, shoot, we don't wanna let that engine-that-could get goin' because if that engine-that-could gets goin', he going to start sayin', 'I think I can. I think I can.' And sooner or later, he gonna start sayin', 'I know I can. I know I can.' Then, sooner or later, he gonna start sayin', 'I did that.'"
What did you tell those kids [at Jackson State] when you left?
Sanders: "Opportunity called. Sooner or later in life, there will be opportunity that knocks at your door. And at this juncture in my life, I felt like the opportunity for not only me, but for my kids as well, was tremendous. Not only did we take several kids from that team, three trainers, maybe 12-14 staffers. So, we afforded to give people a tremendous opportunity here."
What are your first impressions [of Boulder, Colorado]?
Sanders: "Beautiful. Unbelievable. Just the whole peace and serenity of it all. I had never fathomed comin' here. I ain't ever even vacation here, man. I ain't ever been skiing or whatever you call it, snowboarding or whatever, all the stuff. You know, I ain't never been none of that."
You don't even fly fish.
Sanders: "No, I don't. I fish, I'm fly while I fish, but I don't fly fish."
[Upon taking over at Colorado, it did not take long for Sanders to deliver a blunt message to the roster.] You told most of these guys, "The more you jump in, the more room you're gonna make. Those of you we don't run off, we're gonna try to make you quit."
Sanders: "Yeah. Now, if you went for that, if you were able to let words run you off, you ain't for us because we're an old-school staff. We coach hard. We coach tough. We're disciplinarians. So, if you're allowing verbiage to run you off because you don't feel secure with your ability, you ain't for us."
Is this scorched-earth policy good for college football or for the kids?
Sanders: "I think truth is good for kids. We're so busy lyin', we don't even recognize the truth no more in society. We want everybody to feel good. That's not the way life is. Now, it is my job to make sure I have what we need to win. That makes a lot of people feel good. Winning does."
You're a father of college athletes. If they called you and say, "Hey, we got a new coach, and they're tellin' me to get in the transfer portal."
Sanders: "I'd say, 'Son, you must be … you must not be doin' well. … You must not be doin' well because you should be an asset and not a liability.' I'm honest with my kids."
First half of the first game of the season, you're already publicly talking about Travis Hunter's Heisman [Trophy] chances. Who does that?
Sanders: "A coach that loves his kids. A coach that understands that's what those kids desire. And I'm supposed to do that. That's what we told them when they were coming and choosing to play for us. My kids that play for me, they didn't choose a university. They chose me. That's a difference."
Now that you're a Power Five guy, who's the best coach in college football today?
Sanders: "Let me see a mirror so I can look at it. [Laughing] What, you think I'm gonna sit up here and tell you somebody else? You think that's the way I operate? That somebody else got that on me? But I tell you this, I love and I adore and I respect and every time I do a commercial with Coach [Nick] Saban, it's a gift. Just sitting in his presence and hearing him and throwing something else out there so I can hear his viewpoint on it. Because he's forgotten more things than I may ever accomplish. So, I'm a student looking up to this wonderful teacher saying, 'Just throw me a crumb of what you know.'"