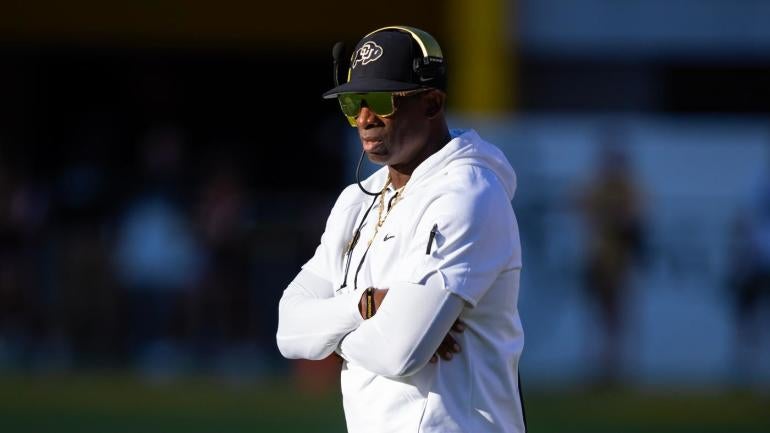 Deion Sanders has coached just 10 games at the FBS level but is already caught up to a certain degree in the frenzy of the sport's coaching carousel. In the wake of Jimbo Fisher's firing at Texas A&M, the first question Sanders was asked at his Tuesday press conference ahead of Colorado's Friday game at Washington State was not about the Buffaloes or the Cougars, rather it centered around the Aggies' vacancy.
Specifically, he was asked for his thoughts about ESPN personality Stephen A. Smith declaring that Sanders to Texas A&M "needs to happen."
"I want to win," Sanders said. "I want to win a game. So you think I really do sit down and think about that kind of stuff? What strikes me about that — about myself — that you guys really think I sit down and say, 'ah yeah, Stephen A.' Come on, I'm good. We've got to win. Let's focus on this week. And we play Friday, so we lose a day of practice. We've got to focus."
Sanders has deep ties to the state of Texas from his time as a star with the Dallas Cowboys in the 1990s. He's maintained a home in the state over the years since and even coached high school football in the Dallas area for several years.
With deep booster backing in a talent-rich state and national title aspirations, the Aggies might prefer a more proven candidate. Sanders owns 4-6 record at CU, already quadrupling the Buffs' win total from 2023 in his first season. He's also hit a wall with his transfer-laden roster in recent weeks, which suggests he needs another season of building to establish himself as a bona fide winner at the Power Five level.
For his part, Sanders has also suggested over the past few months that he would like to coach his sons, defensive back Shilo and quarterback Shedeur, for another season before they pursue professional options after the 2024 season.
"They're going to come out the same year, next year," Sanders told the Dan Patrick Show last week. "They better not try and leave daddy this year, by the way."