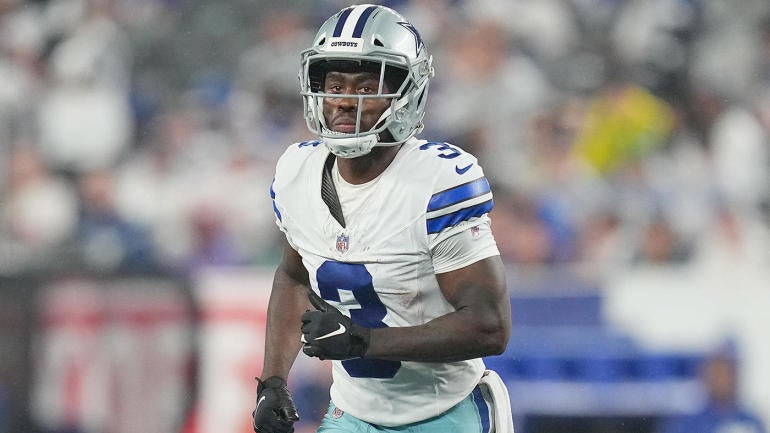 FRISCO, Texas — Thursday marked the only padded practice of the week for the Dallas Cowboys, which means it was the best time to assess where some of their key injured players were at in terms of their progression toward potentially playing on Sunday. Eight-time Pro Bowler and six-time First-Team All-Pro right guard Zack Martin was a late addition to the injury report with a groin injury that limited his practice participation. However, Martin took part in his normal media session on Thursday, and he addressed the injury after his placement on the report during a radio spot on 105.3 The Fan in Dallas. 
"I'm doing good," Martin said, via DallasCowboys.com. "It was just a little tight so they [took] care of me today."  
Safety Donovan Wilson (calf), left guard Tyler Smith (hamstring) and wide receiver Brandin Cooks (knee) were in a different boat than Martin earlier in the week as all did not practice Wednesday. 
Thursday was a different story. Wilson suited up, stretched with the team and participated in position drills.
Both Cooks and Smith once again did not practice, instead working off to the side. Cooks is dealing with an MCL sprain, according to the Forth Worth Star-Telegram. The veteran is dealing with a Grade 1 strain, but the team isn't viewing this as a multiweek injury, per the Dallas Morning News, and he still has a shot to play against the Jets.
After Wednesday's practice, Cooks described his knee as "feeling good" and that if he is out there Sunday against the New York Jets, it would be with "no limitations."
Smith's progression is more murky. A week ago, McCarthy said right now is the first time the second-year offensive line has dealt with a hamstring injury. Expect Dallas to play his recovery cautiously given the 2023 NFL season is only in its second week.