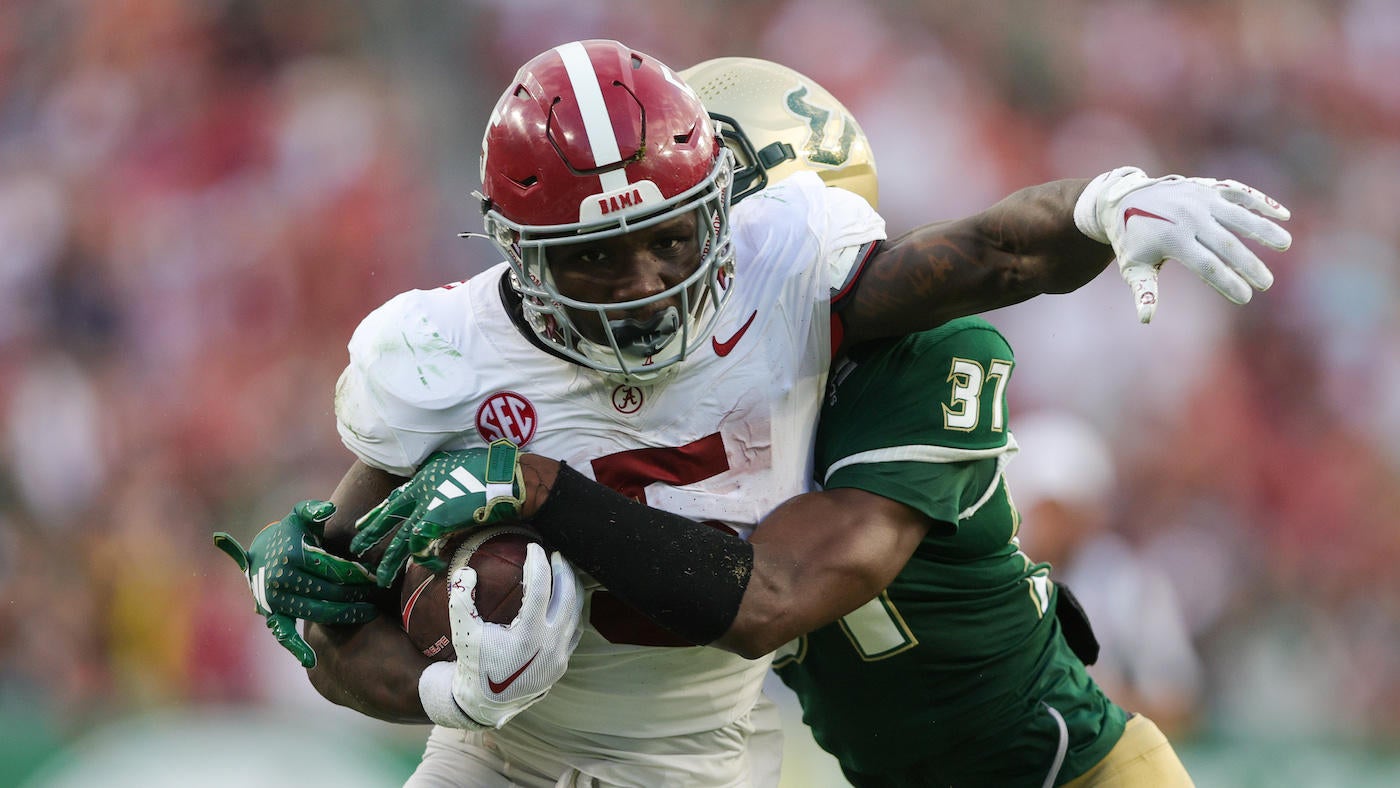 The Week 3 college football schedule was lackluster on paper, but everyone should know by now that the sport always delivers no matter the slate. A pair of top-15 teams fell amid a day that was full of poor showings from marquee teams. We even witnessed saw the first FCS-over-Power Five upset of the season as Sacramento State greeted former coach Troy Taylor with a win over his Stanford team. 
Upsets abounded across the rest of the board, too. Miami (Ohio) beat Cincinnati in overtime, while Ohio beat Iowa State. BYU defeated Arkansas on the road, while Syracuse beat Purdue by two touchdowns. UNLV even notched its first win over an SEC opponent since 2001 after shocking Vanderbilt 40-37. 
Additionally, the struggles at Alabama have quietly taken over college football. One week after losing against No. 4 Texas, the Crimson Tide put together a lackluster performance against South Florida, which has not won an FBS game since Oct. 23, 2021. College football is shifting before our eyes. 
Let's have a look at the biggest winners and losers from the Week 3 action, including a couple of national championship contenders looking far below expectations in tune-up games. 
Loser: Alabama's offense
Some fans wanted Jalen Milroe at quarterback. Others were Ty Simpson fans. Tyler Buchner worked his way into the conversation, taking the starting snaps in Week 3. Ultimately, none of it matters because Alabama's offense is completely flawed. 
With Milroe benched, Simpson and Buchner combined for just 107 yards on 23 attempts against a South Florida team that ranked 130th in total defense a year ago. Alabama's running game found some opportunities but barely averaged 5 yards per carry against the Bulls. The offensive line is constantly dealing with mistakes and miscues. 
The Tide were ranked No. 3 entering the season off the reputation of Nick Saban. Three games in, it's clear that Alabama has little pathway to legitimate SEC contention because offensive solutions are nowhere on the roster. 
Winner: Missouri
The Eli Drinkwitz era at Missouri has been defined by coming up short against strong opponents. The Tigers have won two-thirds of games against unranked opponents under Drinkwitz but were 0-8 against teams ranked higher than No. 25 in the AP Top 25 … until Saturday. 
Behind the leg of "Thicker Kicker" Harrison Mevis, the Tigers nailed a 61-yard field goal as time expired to shock No. 15 Kansas State. The Wildcats obliterated Mizzou 40-12 in the matchup last year. KSU, in general, has wildly outperformed Missouri over the last decade — twice as much since ex-Tigers coach Gary Pinkel retired. 
However, Drinkwitz finally has a major victory to sell. This was Missouri's first victory over a top-15 opponent since 2019 and the Tigers celebrated by landing one of the top players in the state of Kansas on the recruiting trail. Winning these kinds of matchups will be key to Missouri cementing itself a place in the SEC heading forward. 
Loser: Title contenders
The top four teams in the AP Top 25 played on Saturday. None showed anything positive. No. 1 Georgia trailed by 11 points at the half against South Carolina. No. 2 Michigan only led by one score against Bowling Green until the third quarter. No. 3 Florida State allowed Boston College to mount a late comeback and nearly win the game. No. 4 Texas was in a 10-10 game against Wyoming until the fourth quarter. In total, the top four teams underperformed their respective lines by 65 points. 
Granted, the issues are not centralized at the top. No. 7 Penn State let Illinois stick around far too long in a 30-13 victory. Alabama laid the clunker against South Florida. No. 11 Tennessee fell in embarrassing fashion. Looking at the top of the game, no one looks unimpeachable. Could that lead to a truly unpredictable season? 
Loser: Tennessee
Any hope that Tennessee could replicate its magical 2022 season appears fully off the table after getting blasted by a lackluster Florida squad. After blocking a 46-yard field goal on the first drive, the Vols allowed four straight touchdown drives against the Gators in the first half, including one set up by a bad interception. 
Milton's stat line — 20 of 34 for 287 yards and two touchdowns — isn't brutal but hides the inaccuracy and lack of cohesion that persisted throughout the night. The sixth-year senior completed fewer than 60% of his passes and six drives ended in either punts or turnovers on downs. 
Playing FCS Austin Peay to a 30-13 score was an indication that there are massive structural issues for the Volunteers in 2023. A crushing loss to a Florida team with a two-touchdown loss of its own on its resume might push the Vols all the way out of the AP Top 25. Certainly any real national title aspirations are slipping off the table. 
Winner: Michael Penix Jr.
On a day where many of the top national programs struggled, give Washington quarterback Michael Penix Jr. credit for raining hellfire early and often. Penix put together an unbelievable first half, throwing for 375 yards and four touchdowns in a dominant 41-7 win over future Big Ten foe Michigan State. Penix averaged 13.5 yards per pass attempt and produced three receivers with at least 96 yards. 
Since the beginning of the 2022 season, Penix has thrown for nearly 6,000 yards, more than any other quarterback in college football. The Huskies are quietly 14-2 over that span with wins over Texas, Oregon, Oregon State and Michigan State twice under Kalen DeBoer. After the impressive 3-0 start, Washington deserves to be elevated into the top group of college football programs. 
Loser: The Big 12
At one point, the Big 12 looked like a deep conference top-to-bottom with plenty of teams good enough to jump into national relevance. After three weeks, the league hasn't held up its end of the bargain. No. 15 Kansas State was on the wrong end of Mevis' 61-yard kick. Iowa State dropped a clunker against Ohio. Texas was tied through three quarters against Wyoming. 
The worst might have been in Stillwater, Oklahoma, where South Alabama embarrassed Oklahoma State 33-7. The Cowboys were held scoreless until the fourth quarter and allowed 243 yards rushing to a Sun Belt opponent. Similarly, Cincinnati flopped one week after beating Pittsburgh with a 31-24 loss to Miami (Ohio). Baylor needed a late effort to pull away from FCS Long Island. 
Granted, a handful of Big 12 teams came away victorious. BYU came from behind to shock Arkansas in Fayetteville, Arkansas. No. 19 Oklahoma cruised against Tulsa. However, only one Big 12 coach came away from Saturday looking like a big winner …
Winner: West Virginia coach Neal Brown
Few coaches in college football needed a big moment more than West Virginia coach Neal Brown. Five years into his career in Morgantown, West Virginia, Brown was desperately looking for a signature moment. He finally has one after the Mountaineers crushed rival Pitt in the first Morgantown iteration of the Backyard Brawl since 2011. 
Despite losing quarterback Garrett Greene in the first quarter, Brown leaned on a physical run game to the tune of 164 yards on 37 carries between running backs CJ Donaldson and Jaylen Anderson. Backup quarterback Nicco Marchiol only needed to throw nine passes in the win, including a go-ahead touchdown. 
There are plenty of aspects about this game that will not be replicated heading forward. The Mountaineers forced four turnovers. Pitt threw for 81 yards. But, what should carry over is the feeling that West Virginia can win with physicality. Moving to 2-1 heading into Big 12 play gives Brown a new lease on life. 
Loser: UAB
The Blazers were quietly one of the most consistent programs in the Group of Five under coach Bill Clark, winning 68% of their games after returning as a program before Clark had to step aside for health reasons. Unfortunately, the magic has not translated to first-year coach Trent Dilfer, who UAB hired to try and emulate the Deion Sanders effect. In two FBS games, the Blazers have been outscored 90-56 against Georgia Southern and Louisiana. The stretch ranks as the first time that UAB has lost consecutive games by multiple scores since 2019. Suddenly, the program's transition to the AAC looks daunting. Oh, and by the way, the Blazers head to No. 1 Georgia next week. 
Winner: Iowa offensive coordinator Brian Ferentz
Finally, the explosive Iowa offense the people have dreamed of has arrived. The Hawkeyes jumped out to a 41-10 win over Western Michigan behind a 27-0 run in the second half. Running back Leshon Williams posted 145 yards rushing, the best performance by an Iowa rusher since Nov. 5, 2022. Most importantly, however, Iowa has zoomed past the 25 point per game plateau needed for Ferentz to return in 2024. The Hawkeyes are ahead of pace and sit at 28.3 points per game.