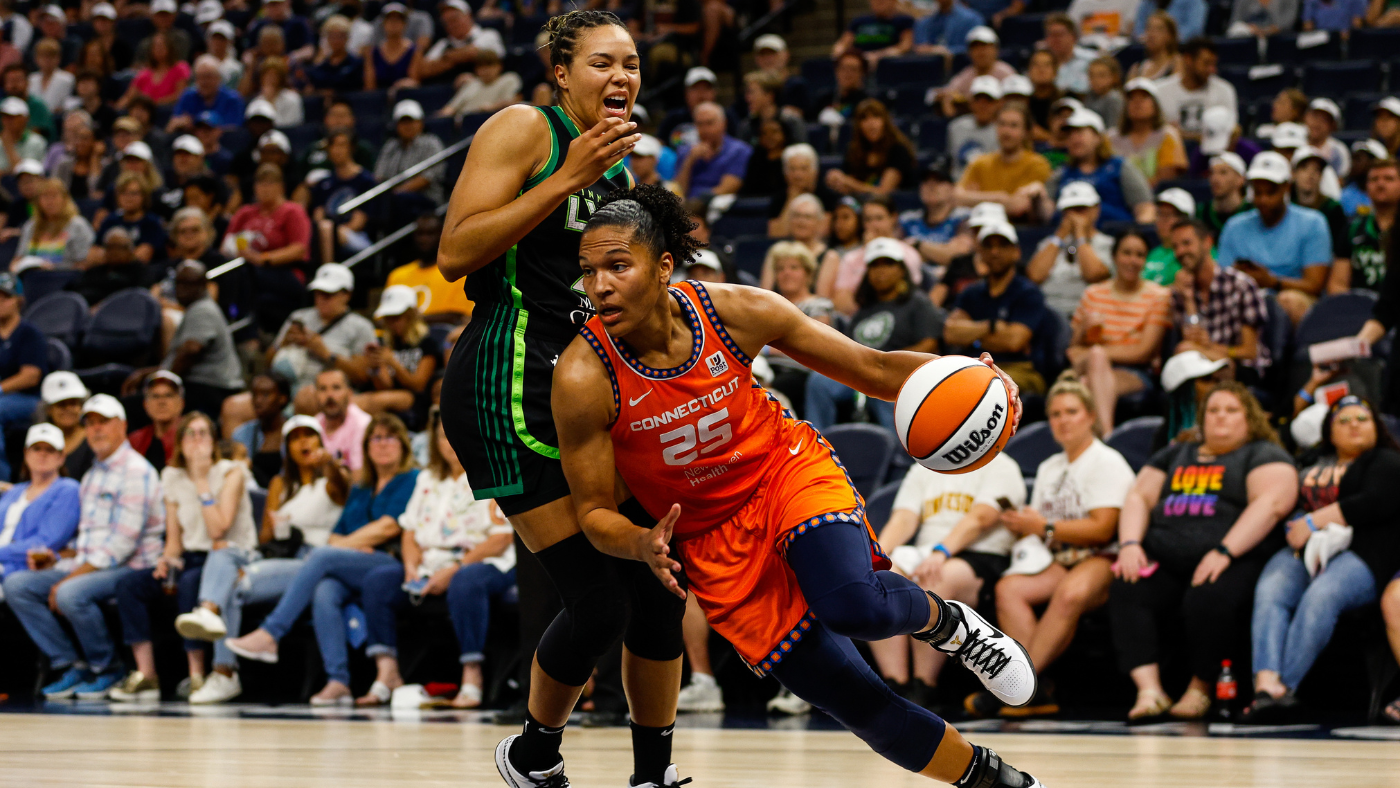 The Connecticut Sun took a commanding 1-0 lead in their first-round series versus the Minnesota Lynx on Wednesday with a dominant 90-60 win in Game 1. They knocked down a franchise playoff record 16 3-pointers en route to the victory and got 17 points, 15 rebounds, and six assists from DeWanna Bonner. 
After losing in the Finals last season, the Sun traded Jonquel Jones to the New York Liberty and hired a new head coach in Stephanie White. Then, a month into the season, Brionna Jones tore her Achilles tendon. But despite all of the setbacks and uncertainty, they were right back at the top of the standings, winning a franchise-record 27 games and earning the No. 3 seed thanks almost solely to Alyssa Thomas. 
As for the Lynx, they made history by bouncing back from a terrible start to become the second team ever to make the playoffs after opening the season 0-6. However, they will have their work cut out for them as they try to win their first playoff series since 2017 (they won a one-game round in 2020 when the league still had single-elimination rounds). 
Here's everything you need to know:
(3) Connecticut Sun vs. (6) Minnesota Lynx
Game 1: Sun 90, Lynx 60 (Sun lead 1-0)
Game 2: Lynx at Sun, Sunday, Sept. 17 — 1 p.m. ET
Date: Sunday, Sept. 17 | Time: 1 p.m. ET
Location: Mohegan Sun Arena — Uncasville, Connecticut
TV channel: ESPN | Live stream: fubo (try for free)
Odds: Not yet released
Game 3*: Sun at Lynx, Wednesday, Sept. 20 — TBD
*If necessary
Players to watch
Sun: Alyssa Thomas
Perhaps no player in the league means quite as much to their team as Thomas, who put together a historic and unique season as she became the triple-double queen and single-handedly led the Sun to the No. 3 seed. When she was on the floor this season, the Sun had a plus-7.5 net rating; when she sat, it plummeted to minus-22.7. 
Lynx: Napheesa Collier
Collier is another of the league's brightest stars, and like Thomas will receive MVP votes and should appear on both All-WNBA and All-Defensive teams. While her on/off splits aren't as staggering as Thomas's — no one's are, to be fair — Collier is vital to the Lynx's success, and their hopes of pulling an upset rest on her shoulders. 
Three keys to the series
Turnover battle
The Sun had the second-best defensive rating in the league this season, allowing just 98.8 points per 100 possessions. A major reason for their success on that side of the ball is they forced an incredible amount of turnovers with their pressure and physicality. Their opponent turnover rate was 19.8%, and it's hard for any team to score when they're not even getting a shot up on one out of every five possessions. 
While that's an issue for any team, it's an especially glaring concern for the Lynx, who have the second-worst turnover rate of all the playoff teams at 17.7%. They have trouble taking care of the ball all season long, and allowed 16.7 points off turnovers per game, which ranked 11th in the league. The Sun, on the other hand, feast on the situations. Their 18.5 points off turnovers per game led the league and were a crucial part of their offense. 
If the Lynx want to pull off an upset, it starts with taking care of the ball. Not only will that give them more opportunities to score, but it will keep the Sun out of transition and limit their easy baskets. 
Thomas loves playing the Lynx
Alyssa Thomas put up incredible numbers this season, the likes of which we've never seen: 15.5 points, 9.9 rebounds, 7.9 assists and 1.8 steals per game on 47.4% shooting. She registered six triple-doubles this season, to set the new single-season record, and now has eight for her career, which is the all-time mark. 
While she did damage against every team, she was particularly fond of playing the Lynx. That was the opponent when she recorded her historic 20-point, 20-rebound, 12-assist outing on Aug. 1 — the first 20/20/10 game in WNBA history — and she had another triple-double against them on July 30. Over four games against the Lynx, she averaged 17 points, 13 rebounds and 10.3 assists. 
The Sun went 3-1 against the Lynx this season, and their movement off the ball around Thomas caused all sorts of issues for the Lynx's defense. Minnesota will have to be deliberate with the help they send her way and have everyone else on the weak side on a string, or Thomas will pick them apart. 
Can the Lynx keep the Sun off the line?
The Sun lived at the free-throw line this season. They shot 19.9 free throws per game (third in the league), had a 0.293 free throw rate (second in the league) and scored 18.4% of their total points at the line (sixth in the league). While they actually shot it quite poorly from the stripe at 76.6% (11th in the league), they rack up so many attempts that it's still a significant part of their offense. 
Their ability to punish you in the paint takes a toll. It allows them to slow the game down, score easy points and put other teams in foul trouble. The Lynx's ability to defend without fouling will be a key factor in this series. While the Lynx haven't been a great defensive team this season, that is one area they've excelled. 
Only the Aces and Liberty committed fewer fouls than the Lynx (16.9 per game), only the Aces allowed fewer opponent free throws (16.3), and only the Aces had a lower opponent free throw rate (0.230). But while they've shown an impressive ability to keep opponents off the line, the playoffs and the Sun's style will test their discipline. 
Prediction
It was extremely impressive to see the Lynx get up off the mat early in the season and make the playoffs, but their turnaround was feuled by beating bad teams. They went 4-11 against the four .500+ teams this season, including 1-3 versus the Sun, and have not been playing great ball as of late. The Sun are the superior team, and have the best player in the series, who will not be denied. Pick: Sun in 2